2006 was definitely the year of leona lewis. The young Hackney girl was meant to be the queen of british pop music and reign the charts all over United Kingdom, USA and 28 more countries!!!
After winning the competition she released a cover of the song » A Moment like this» which became one of the most downloaded singles of the year!!!
All newspapers and TV shows were talking about the new Mariah Carey and Whitney Houston!!! Her rise to global fame came with her single Bleeding Love and her first ever album «Spirit». Tv appereances in shows and interviews became a usual phenomenon for Leona Lewis!!!
She became the first solo artist to top the Usa charts in more than 20 years and her single remained in first place for 7 weeks!!!
Then in 2009 she released her second album, Echo in which she showcased her GRANDE vocals in songs like Can't Breath!!!
The album did great in sales and she made an arena touring for which she changed her style. she became more modern and she even danced on stage… Let's see some pics form her arena touring called » Labyrinth Tour»!!!
Then suddenly Leona disappeared from stage. She did some covers but nothing else. Until Glassheart came!!! A great album in my opinion with a whole different style for her!!! A more edgy style and modern music!!!
Let's hear her best single form the album called Trouble
And in 2013 a Christmas album came!!! She released «Christmas with Love» which in the beginning came in the 36th position in charts but with the promotion it climbed in the 3rd place!!! It was Leona's 6th top 5 which made her the only British female artist to do that in British Charts!!!
Her single «One More Sleep» was a true hit:
And then she again disappeared from the spotlight!!! She then part ways from Syco saying that she was neglected and she wanted to do her own music!!! She then said that she had something like depression!!! But in 2015 she signed with Island Records, a Universal Company and released her fifth album called «I AM», an album about enpowernment and believe to yourself!!!
Her single Thunder did well in Charts in Uk where its climbed to number 12 and in USA in number 37!!! Let's listen to it and watch it:
She also did a tour in Uk which went great as 3 of her shows were sold- out in two days after the announcement of her tour!!!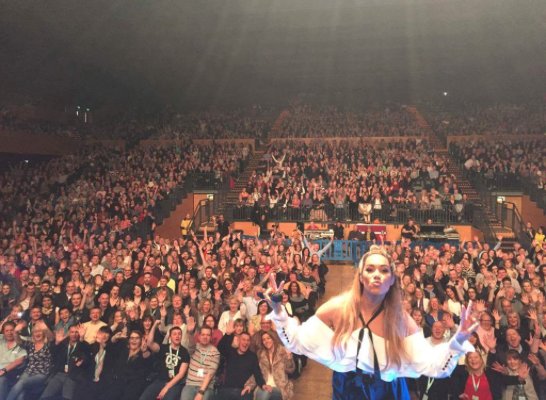 She even sang with Taylor Swift in Taylor's World Arena Tour called «1989»:
But difficult times came for Leona!!! She parted ways with her new company after the release of only one album!!! Simone Cowell said the the open is always open for Leona to come back but it seems that Leona doesn't want to!!!
But the luck was still with her!!! She got the role at the revival of Cats on Broadway till October 2016!!! Critics praise Leona for her singing skills!!!
Lord Andrew Loyd Webber praised Leona as he said that she has one of the best voices of her generation!!! After this success Leona announced that new music is on the way after cats with Pitbull and famous Dj Alesso and her new album!!! Also Leona is still signed in Def Jam in the Us and she is collaborating with huge composers and Grammy award nominees!!! Is seems that a new promoting strategy is being build for Leona to re-enter the A List of Pop artists!!! She is using social media a lot to keep her fans updated!!!
Waiting for Leona to release new music!!! Comment below if you are waiting for new music from Leona and spread this article though social media!!!