It all started last year when  some NFL players refused to stand up for the National Anthem supporting that they won't stand up for a flag of a country that disrespects black culture and its people!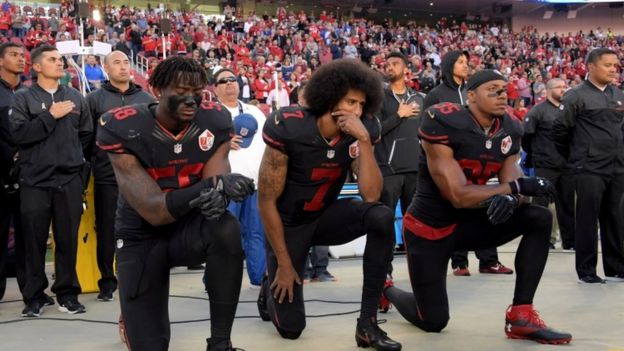 Kaepernick continued to demonstrate amid fierce criticism but this season remains a free agent.
«To me, this is bigger than football and it would be selfish on my part to look the other way.»
Some commentators suggest he may have been «blackballed» from the sport as clubs fear a backlash for signing him.
Recently Trump made a statement about players not standing up for the American flag saying:
«Wouldn't you love to see one of these NFL owners, when somebody disrespects our flag, to say, 'Get that son of a bitch off the field right now… he is fired'?»
He has also tweeted multiple times that NFL players should be punished for that kind of actions.
Let's see if players of NFL are allowed to do so:
This part of the article is taken from BBC which did an amazing survey for this specific issue:
Are players allowed to do it?
A US law called the Flag Code covers the etiquette around the National Anthem.
It says persons present around the national anthem are expected to stand with their hand on their heart and face a flag if there is one present.
However, the code is never enforced and there is no official punishment for breaching it.
In any case, players' flouting of tradition has angered many sports fans.
But this was not the end of the case!
On Sunday's NFL games:
Neither the Seattle Seahawks nor the Tennessee Titans turned out for the national anthem before kick-off at their game, hours after the Pittsburgh Steelers did the same in Chicago (except Alejandro Villanueva, a veteran who served in Afghanistan)
The Chicago Bears stood on the sidelines with their arms locked, as did New England Patriots star quarterback Tom Brady and teammates at another game. Some Green Bay Packers and Cincinnati Bengals players also linked arms
The anthem singer at the Seahawks-Titans game kneeled at the end of the performance, as did singer at the Lions-Falcons game, who also raised his fist
Philadelphia Eagles fans clashed with protesters ahead of a game in their home city against the New York Giants
Jacksonville Jaguars owner Shahid Khan – who donated $1m (£740,000) to the Trump campaign -locked arms with his players- in an unusual scene, as owners rarely join players on the pitch.
Mr Trump is also facing criticism after withdrawing a White House invitation to basketball champions the Golden State Warriors after one player, Stephen Curry, said he did not want to attend.
Curry – NBA's top performer in 2015 – said he wanted to show that he and other players did not stand for «the things that he's said and the things that he hasn't said in the right times».
Well i am waiting for further info so i can continue writing about this specific issue. In my opinion, things are going to be a little worse the next few days as both sides are willing to fire back to each other.
SOURCE: http://www.bbc.com/news/world-us-canada-41384053